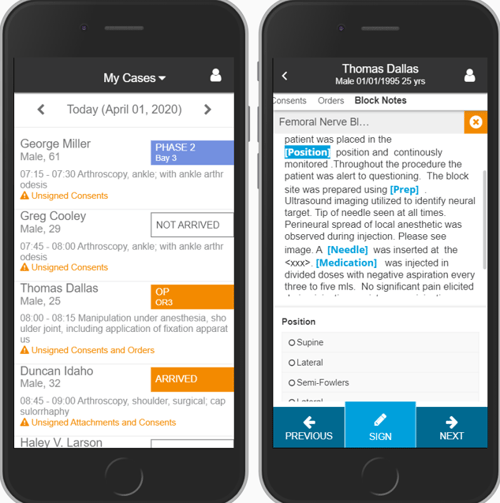 Why are patient management and physician engagement tools so important in this day and age? Will they really improve my ASC's operations, or my patient's satisfaction levels? We have been doing fine without them for years, why now? These are all questions you or your staff may find yourselves asking, and you aren't alone. But rest assured, they can make all the difference. Patient management and physician engagement tools provide a helpful and easy way to communicate your needs to both staff and patients in an efficient manner. Just because something has been working "fine" for years, doesn't mean it can't improve, right?
Studies show that patients, along with everyone else in the world, are looking for convenience. So fast and easy communication with them is invaluable. From pre-admission questionnaires to post-op discharge instructions, patient engagement is vital to the success of your business. A good surgical patient portal will allow for your ASC to create and configure screenings, questionnaires, surgical instructions, and reminders to fit your constantly evolving needs and make them widely available across multiple communication mediums. Being able to text your patient appointment reminders and make sure they have their pre-admission records filled out is convenient for both parties and reduces staff workload on the day of surgery. When looking for the right patient engagement tool to fit your facility, some things to consider are:
Configurable messaging, questionnaires, and reminders
Both automated and instant messaging options
An easily accessible portal for your patients
Integration with your ASC management system
Communication tracking abilities for staff records
Efficient communication with your physicians is just as important as communicating with your patients. Well, the right physician engagement tool can do just that, plus more. Easily communicating with your physicians is crucial in order to complete daily tasks and keep things moving smoothly. One thing most ASC administrative staff can agree on is that one of the hardest parts of their day can be having to track down their physician and have them sign off on consents, medication reconciliations, and op notes – especially if they have already left the premises. A physician engagement tool lets you automate daily reminders to physicians about outstanding documents they need to finish and gives them the ability to complete those items from wherever they may be.
Also, wouldn't it be nice to eliminate the dizzying back and forth between the surgeon's office and your ASC when trying to schedule procedures? The right tool will allow for electronic case requests, enable staff to track the status of all cases, improve workflow for the office and ASC, eliminate the need for duplicate data entry, and make notifying your physicians of service cancellations and schedule changes a breeze. Things to look out for when selecting the right physician office engagement tool:
A seamless pathway between your surgeon's office and the ASC
A case request tracker that allows the ASC scheduler to see statuses
Integration with your ASC management system to eliminate double data entry
Point-in-time messaging to communicate with staff concerning cancellations, closures, etc.
These tools will always be useful, but their importance is more visible now than ever before. The need for fast and easy communication among patients and staff members has been made abundantly clear as we make our way through this global health crisis. For more information on SIS patient engagement software, visit our SIS Exchange page, and for information regarding SIS physician engagement software, please visit our SIS Link and Clinical Documentation pages. These tools are included with a SIS Complete subscription.