There are more than 700 people in the U.S. who have earned the CASC (Certified Administrator Surgery Center) credential, but you might be surprised to find that they're not all administrators. In this blog series, we'll get a personal look into the lives of a few of those intrepid individuals who bear the CASC certification but work in nontraditional roles, highlighting the ways being a CASC has helped them be more effective at their jobs.
T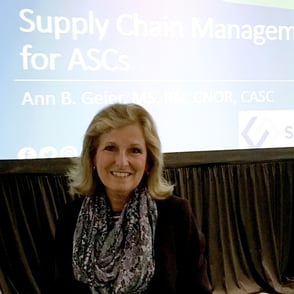 he Certified Administrator Surgery Center (CASC) credential is one of the greatest distinctions you can earn in the ASC world. But you don't have to be a facility administrator to benefit from the certification. The knowledge and skills that it endorses you for—from understanding legal and regulatory issues to expertise in financial management, human resources, quality, and clinical operations—are also applicable to a wide variety of other roles in healthcare.
In previous posts, we've discussed how to obtain the credential, but today we're going to begin a short series exploring different ways that the CASC certification is valuable even if you're not working as an ASC administrator.
We'll start with my story.
I took the CASC exam back when it was first offered in the 1990s. At the time, I was in a traditional ASC administrator role. Today, I'm a non-traditional CASC using my skills and certification working as the Chief Nursing Officer for SourceMed, an outpatient healthcare technology solutions and services company. In this role on our Professional Services team, I advise customers on best practices and strategies to help their ASC enhance efficiency, improve compliance and deliver high quality care. I also help SourceMed develop its solutions so that they are highly relevant to the dynamic needs of ASCs.
While my firsthand experience as an admin has given me the necessary insights to advise SourceMed customers on best practices for their ASC, I believe my CASC certification has proven equally as valuable to my ability to counsel clients. Why? It enables me to have credible peer-to-peer discussions with other CASCs and proves my commitment to stay current on the most important topics in the ASC realm. In this type of an advisory role, there is nothing more important than keeping my finger on the pulse of the industry as it changes so that I can help our customers understand how they need to adapt what they are doing in their own facilities to succeed.
There's no doubt that the pace of change in healthcare is accelerating, largely driven by the widespread adoption of healthcare IT and the shift to value-based care models. That's why the continuing education component of CASC certification is so important. Every three years, certificants are required to complete a minimum of 45 Administrator Education Units (AEUs)—nine in each of the five main content areas. That averages to at least 15 hours of keeping up with trends and regulations annually through a variety of educational programs like training sessions or webinars. As a result, my clients know that they are talking to someone with up-to-date knowledge and ideas that can help them deal with their real, everyday issues, not just hypotheticals or outdated case studies.
For example, one of the ways I use my knowledge to help customers is by going onsite to their facility and conducting a regulatory compliance mock survey. These surveys identify deficiencies and areas needing improvement for ASCs that are either facing their first AAAHC certification or renewing accreditation. Customers rely on me being up to speed on the latest information regarding certification requirements as well as knowing about the latest tools and strategies to fulfill them.
Having the opportunity to help new and existing ASCs succeed is both personally and professionally fulfilling, and is strong validation of how a CASC credential can be beneficial in a non-administrator role. What other types of positions do you see CASC certified individuals holding in our industry?
What would you "Ask a CASC" if you had the chance? We've begun this Q&A blog series to help you navigate the most important issues in ASC management. Submit your questions in the form on the right and check back for answers from SourceMed's own CASC certified experts.
[cascMod]