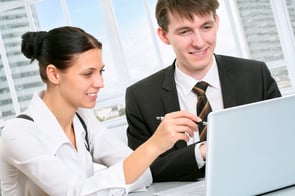 Today I'd like to take a moment to share some exciting news and brag a little. As the leader of SourceMed's Revenue Cycle Services business, I see firsthand every day how our expert team of certified coders, billers and collectors work diligently to stay ahead of the curve and ensure that our customers receive timely, accurate reimbursements for the services they provide in the outpatient setting.
It is an honor to know that our efforts are recognized not just by customers, but also across the broader industry. SourceMed rose four spots on Modern Healthcare's 2016 list of the nation's 26 largest revenue cycle companies, up from #16 last year to #12 this year. This demonstrates the growth SourceMed is experiencing by helping more customers improve their revenue cycle results.
If you've read my blogs, you know that I'm a strong advocate for facilities to use Key Performance Indicators (KPIs) and analytics to measure their revenue cycle health and track progress against goals in critical areas. We follow this same approach to ensure our customers' success. Here's an example:
Improving ASC Revenue and Collections
Billing staff disruptions were hampering University Orthopedic Center's (UOC) ability to achieve consistent cash flow and increase revenue. By partnering with SourceMed Revenue Cycle Services, UOC was able to:
Decrease AR over 90 days from 41% to 26%
Increase net collections by more than 60%

Decrease average days to bill by 50%
The result? More revenue that UOC can invest in things like new capital equip­ment, technologies, staff and services to better serve patients. Read the full case study here.
"We have had a consistent team and the service is outstanding – everyone is professional, easy to work with, very responsive and knowledgeable about the ins and outs of billing." —Joseph Myers, VP of Surgical Services, UOC
We also appreciate that payment for service is transitioning toward a more value-based approach, and knowing how that impacts the revenue cycle is vital to ambulatory surgery centers' continued success. That's why, in addition to our end-to-end revenue cycle management services, we offer revenue cycle advisory services to help ASCs adapt their internal processes and prepare for the value-based word. Here's a useful resource to help your facility get started.
Want to learn more about how SourceMed can help your facility improve its revenue cycle? Visit us in booth #32 at the Becker's ASC Conference this month, where I'll also lead a session on "Influencing Stakeholders about your ASC Revenue Cycle." If you're not attending the conference, we'd love to speak with you—fill out this form and one of our revenue cycle experts will contact you shortly.