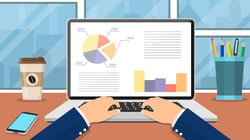 The Ambulatory Surgery Center Association (ASCA) recently stated that at least 1,000 ASCs had not reported their ASC Quality Reporting (ASCQR) Program data. ASCs that fail to do so by May 17, 2021, will be subject to a 2% reduction in their Medicare fee-for-service reimbursement for the following year.
For some ASCs, collecting the data required for Medicare reporting is a cumbersome process. Time-consuming tasks can include the following:
Searching through every patient chart to find the applicable data.
Producing forms specific for reporting that requires duplicative charting.
Managing missing information.
Manually compiling data in a spreadsheet.
But for those ASCs using SIS Complete, finding the data required for selected ASCQR program reporting is simple. SIS Complete is the fully cloud-based ASC software from SIS, the No. 1 overall ASC EHR vendor for six consecutive years.
SIS Complete manages mandatory ASC requirements, including Medicare data reporting. Applicable data is automatically put into a report format for easy collection and reporting. For example, running a normothermia report requires only a few clicks and then the data is ready for filing.
Want to see how SIS Complete is making compliance and clinical, financial, and operational management easier for ASCs nationwide? Learn more!