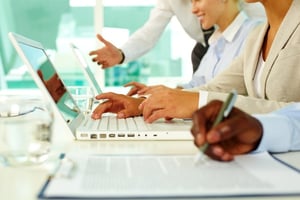 Wendy Ventresca is senior training analyst in client services at AmkaiSolutions.
Q: What is different about AmkaiSolutions' training method?
Wendy Ventresca: Since each ambulatory surgery center functions differently, we don't have one cookie-cutter training method. Some facilities perform procedures in just a single specialty and others are multi-specialty facilities; some have multiple operating rooms and others have just a single OR. Each differs in the number of patients they serve, the number of physicians that utilize the ORs and the total number of employees, and therefore each ASC requires different training methods to fit its specific needs.
Larger facilities with many employees usually need to begin training in a lecture setting, giving a general overview of the system's functionality before starting one-on-one, hands-on training. In a smaller surgery center, we usually forego lectures and jump right into hands-on training.
We may also need to adjust training based on the volume and type of procedures the ASC is performing, and the technical knowledge of the staff. Regardless of the training style we use, all AmkaiSolutions users can rest assured that they will have a step-by-step walkthrough of each module and each feature of the product.
Q: Are different facility members (front office staff, doctors, nurses, etc.) trained differently?
WV: The main difference in training is between our AmkaiCharts EMR clinical users and our AmkaiOffice business and administrative users.
Clinicians and office workers have different schedules and responsibilities within the ASC. Physicians, for example, spend a majority of their time at their practice and away from the surgery center, and when they are at the ASC they are usually focused on performing procedures. Because of the physician's time constraints, we build our training around their availability.
Training schedules are also adjusted based upon the size of the facility and the implementation plan that we've agreed upon with the ASC's leadership. Larger facilities will often choose to use a phased implementation, going live with only the most critical product features first before launching the entire system. These facilities usually launch the EMR's nursing record first. In this case, we train the nurses before we train the rest of the staff, allowing them to become product advocates and assist in the larger training efforts.
Q: What do you consider before assigning a trainer to a client?
WV: When matching clients with trainers, we do our best to match personalities, but more importantly we try to match backgrounds.
Before joining AmkaiSolutions, I worked in the office side of ASCs, focusing on practice management and billing. I normally work with AmkaiOffice users because I understand what an ASC's officer's job entails, and I can train them in the specific product functionality they will need to use before teaching them the rest of the system.
We have other trainers at AmkaiSolutions that come from the clinical side, and we do our best to match them with nurses and physicians who will be using AmkaiCharts EMR.
Q: What is the ultimate goal of the training process?
WV: The ultimate goal of training is the same as the ultimate goal of our company: to make our clients more efficient.
We strive to transfer the most important operations of our clients' business into our systems. The major difference with AmkaiSolutions is that we are not changing the ASC's workflow to fit our system; we are changing our program to fit the ASC's workflow. This is why we offer such a diverse range of customizable software features and training options that can meet the news of any ASC.