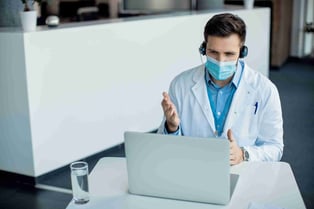 It's National ASC Month!
Since the first ASC opened in 1970, our industry has grown from celebrating this anniversary on a single day to a full month of appreciation and raising awareness of the contributions and benefits ASCs provide to patients and the healthcare system. And rightly so!
Every day, ASCs provide thousands of patients with high-quality, cost-effective, and often life-changing procedures. It's quite likely that if you're reading this article, you already know this. So why — or better yet, for whom — are we raising awareness?
ASCs are regulated by the federal and state governments, and surgery centers benefit when they receive recognition and support from elected officials. While awareness among lawmakers has grown over the years, many still lack a full understanding of how ASCs positively affect America's healthcare industry, and specifically, how laws affect patients and ASCs.
Previously, it was considered standard behavior for ASCs to host events for their communities and invite lawmakers for facility tours. While in-person activities invite elevated risk as we continue the battle against COVID-19, there are many ways ASCs can promote awareness this year while still following local social distancing guidelines — activities that are worth considering for National ASC Month or any month of the year.
Here are 4 other ways you can interact with the public and raise awareness for your facility and the ASC industry.
Develop community health education materials
Gain visibility in your community by sharing educational materials, such as infographic flyers, short videos shared on your website and/or social media, coloring books, and posters. Helpful hint: Consider the materials you would provide at an open house! For distribution, places such as your waiting room, the local library, and your chamber of commerce are great locations to make the materials available to the public.

You can even host a virtual community education course that shares information related to your facility's specialty(s) or most common procedures.


Participate in podcast, radio, and television interviews
An innovative way to share the benefits that ASCs provide is to take part in podcast, radio, and television/video segments — whether self-hosted or with an ASC representative as a guest. Distribute these online through your website and/or social media, and aim to provide a hybrid of live and pre-recorded content. This will help appeal to a larger audience. Plus, it allows your content to be shared, spreading awareness without further adding to your workload.


Share patient satisfaction survey and quality study results
You know your ASC does a great job providing care. And you likely have documentation to prove it. Why not share that with the world?!? Publicizing patient satisfaction survey results, patient testimonials, and quality study results is a great way to use information you're already gathering to toot your own horn and demonstrate why your ASC deserves the support of lawmakers.


Hold virtual facility tours
Inviting elected officials to a facility tour is one of the most impactful ways to raise awareness about your ASC and the surgery center community. With the ongoing pandemic, many centers are getting creative with their tours.
The Ambulatory Surgery Center Association (ASCA) encourages surgery centers to host virtual facility tours, even providing a "Virtual Tour Kit" to help ASCs plan a successful virtual tour. The kit includes ASCA's virtual facility tour guidebook, presentation templates, an informative flyer, email templates to invite your local legislators, and a set of frequently asked questions. For more information on hosting a virtual facility tour, visit ASCA's grassroots advocacy page.
By participating in awareness-raising activities, communities and government officials alike can learn more about surgery centers and the essential role that they play in providing affordable, high-quality surgical care.
Surgical Information Systems would like to acknowledge the incredible work accomplished by the ASC industry! To learn more about National ASC Month, visit the ASCA website.