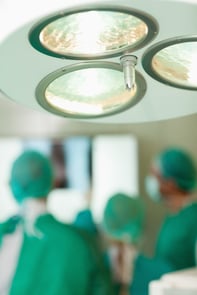 The number of ambulatory surgery centers (ASCs) in the U.S. has grown to rival that of hospitals, with more than 5,400 across the country that perform 23 million surgeries each year. Over the 40+ years since the first freestanding center opened in the United States, ASCs have become the preferred facility for many outpatient procedures and are thriving thanks to their ability to provide high-quality patient care at lower costs. In honor of 2016 National ASC Week (August 8-12), let's highlight a few ways ASCs have revolutionized the surgical experience.
Convenience
Because ASCs are smaller than hospitals, patients enjoy easier scheduling and shorter wait times. Free parking right in front of the building and the ability to recuperate at home are additional patient benefits that can't be beat. Physicians benefit from numerous conveniences as well, including greater control over their schedules and less down time, allowing them to give more individual attention to patients and their families.
Quality
In the smaller universe of the ASC, physicians gain the ability to ensure that staff are specially trained for the particular procedures they'll perform and that equipment and supplies are the most suited to their practice. Many ASCs specialize in one particular area, like orthopedics or ophthalmology, which means they perform more of the same procedures over and over. Practice makes perfect: repetition increases expertise and quality. These factors translate to satisfied patients and improved outcomes – plus the opportunity for higher reimbursements under value-based models.
Safety
ASCs are unique in that they treat otherwise healthy patients who happen to need surgery. So when patients opt to have procedures at an ASC instead of a hospital, they avoid interaction with sick patients, thereby mitigating risk of infection. The fact that ASC patients are able to get in and out of the facility within 24 hours also decreases their risk of infection and associated complications, as compared to hospitals that may require prolonged stays. This is why ASCs continually have lower infection rates than hospitals.
Cost
Not only do ASCs provide high-quality care in a safe, convenient environment, but they also do it more affordably. By controlling expenditures, including staff and supplies, ASCs save money – which means payers and patients save money too. A recent study found that ASCs reduce the cost of outpatient surgery by more than $38 billion dollars per year by providing a lower cost site of care compared to hospital outpatient departments (HOPDs).
For over four decades, ASCs have proven to be ahead of the curve when it comes to the changing healthcare landscape. As the industry transitions to value-based models, they are already focused on providing a better patient experience and improved outcomes in a cost-effective setting – a cause for celebration from every perspective during National ASC Week.
How have you seen ASCs improve the surgical experience for patients? Please share your thoughts in the comments box below.