A preview of the ASCA 2022 session, "The Tech-Enabled ASC: How Innovation Can Keep ASCs Competitive and Viable", presented by SIS' Daren Smith, BSN, RN.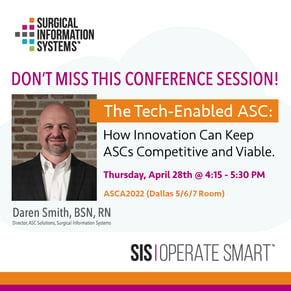 Daren Smith, BSN, RN, director of ASC Solutions for Surgical Information Systems, will be presenting at the ASCA 2022 Conference & Expo in Dallas. His session, "The Tech-Enabled ASC: How Innovation Can Keep ASCs Competitive and Viable," is scheduled for 4:15 pm–5:30 pm on Thursday, April 28.
Q: What are some of the key topics you will be discussing during your presentation?
Daren Smith: I'm going to look at the full ASC technology landscape and review some of those buzzwords you're hearing related to technology, such as artificial intelligence and machine learning. I'm going to distill those buzzwords to the five types of technology that are probably the most realistic for use within ASCs and then break them down. I'll define each of those technologies and examine why a surgery center would considering using them. What are the goals for using the technology? What can this technology do for a surgery center?
That's going to lead into a discussion about how ASCs would use the technologies. Then we'll talk about how to evaluate each of those technologies. Is this the right technology for my ASC? Once I have it, how do I use it to best benefit my center?
Q: Why is understanding these topics important to achieving success in healthcare and the ASC industry today?
DS: There have always been tremendous pressures on surgery centers. Over the past few years, those pressures have changed and expanded a bit. As always, we're seeing the expectation from insurance carriers and the federal government that ASCs should be doing more with less. Now we have additional, external pressures further playing into this need, such as the shortage of nurses and all the COVID-related issues we've gone through, like the restrictions and extra work ASCs have needed to complete. One of the best ways for centers to do more with less is to offset some of their manual labor with the types of technology I'll be discussing during my session.
Q: What will attendees come away with?
DN: I'm hoping they come away with a spark of curiosity. I want to get them thinking, "How can I use these the five technologies? Which ones do I have the opportunity to use in my surgery center? Which ones are going to give me the greatest return on my investment? How can I use technology to do what everybody's asking our ASC to do?" That ties back to doing more with less.
Q: Who would benefit most from attending your presentation?
DN: I tried to create the program so it isn't specific to physicians, administrators, business office managers, or any other position in an ASC. When discussing the five technologies in detail, attendees will find that their uses and potential benefits apply to a wide range of job roles. We're going to talk about some clinical technologies, some business office technologies, and some administration technologies. Anyone who attends this session should come away with new information and be in a better position to understand the role technology can and should be playing in their ASC.
Will you be at ASCA 2022? Come say hello!
Take a few minutes to stop by the SIS Booth while you're in Dallas and learn about the new and upcoming features for our award-winning products. Want to take a deeper dive into what our cutting-edge technology can do for your facility? Set up some time with our EHR experts to discover what's possible with SIS.