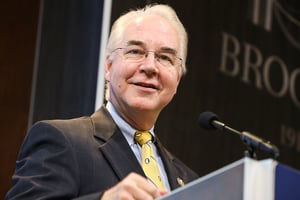 Amkai hosts U.S. Congressman to promote awareness of the ASC industry as a part of National ASC Week (August 8 – 12).
August 8, 2016
–On Monday, August 8, U.S. Congressman Tom Price of Georgia's 6
th
district visited with AmkaiSolutions' leadership at their corporate headquarters in Alpharetta, GA.
The meeting provided Amkai with the opportunity to highlight the high-quality, cost effective care ASCs provide, while discussing with Rep. Price the importance of innovative software solutions in the continued growth and success of ambulatory surgery centers.
Technological and medical breakthroughs over the past few decades have moved a majority of surgical volume to outpatient settings, with over 23 million surgeries being performed in ASCs. ASCs continue to be challenged with growing volume, lower reimbursements, leaner staff, increased competition and greater scrutiny by payers and regulatory entities. Electronic Medical Records specifically designed for the ambulatory care setting provide a means for ASCs to keep pace with increasing volume while improving their quality of care.
"Congressman Price's commitment to quality healthcare policy and cost-containment have been demonstrated time and time again during his public service," said Tom Stampiglia, President and CEO of AmkaiSolutions. "As an orthopedic surgeon and as member of Congress, he has a true understanding of the surgery center's value to provide high quality care and save the government, third party payers, and most importantly, patients' money. We were proud to host him and show our commitment to helping ASCs deliver improved outcomes."
Rep. Price has sponsored and co-sponsored a number of pro-ASC legislation, including The ASC Quality and Access Act of 2015, which will help ensure that Medicare and its beneficiaries continue to enjoy the high-quality care and cost savings that the over 5,000 ASCs across the nation provide.
To learn more about Congressman Tom Price, click here.
---
About AmkaiSolutions
AmkaiSolutions™ is a trusted industry leader, offering innovative software solutions and services to the full spectrum of outpatient surgery providers- ambulatory surgery centers, surgical hospitals and associated practices and clinics. Our solutions help outpatient surgery facilities increase administrative and clinical efficiency and profitability, allowing them to focus on patient satisfaction. Our growing product line includes AmkaiCharts, the leading EMR in the outpatient industry and AmkaiOffice, a next-generation management software solution designed to replace and enhance the "legacy" systems in use today. The AmkaiSolutions team's extensive experience in the outpatient surgery industry positions us well to bring substantial new streamlining and added benefits to the market. AmkaiSolutions is a subsidiary of Surgical Information Systems.
AmkaiSolutions, AmkaiEnterprise, AmkaiOffice and AmkaiCharts are trademarks of Amkai LLC. SIS, the SIS logo, and Surgical Information Systems are trademarks of Surgical Information Systems, LLC. Other company and product names may be trademarks of their respective owners.