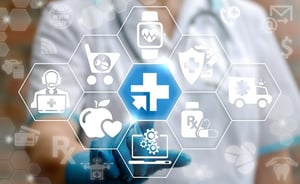 Richard MacCatherine is project manager at AmkaiSolutions.
Q: What are some of the different reporting features available in AmkaiOffice?
Richard MacCatherine: AmkaiOffice has more than 300 ready-to-use reports for every module, including those for scheduling, demographics and financial management, to name a few.
AmkaiOffice also includes a powerful custom report writer which allows ASC staff to create custom reports, selecting which data they want from specific modules. Users can pull information fields from financial management, demographics, CDM, etc., and build a report that is more useful a for their facility's specific workflow, rather than relying on a "canned" report.
With each AmkaiOffice release, we add more features to our custom report writer. It is an ever-improving technology.
Q: What are the advantages of AmkaiOffice cost management technology?

RM: The cost management module allows ASCs to obtain a detailed picture of their cost per surgery. Facilities can see how much a specific physician spends per surgery based upon the inventory they use. For example, if a physician is using a more expensive implant or instrument, the cost management module will be able to determine the difference between that physician's expenses and the average expense per surgery at the facility. Administration can then analyze this data and determine what the center can afford and what it needs to cut back on. AmkaiOffice's cost management module provides a nice snapshot of the ASC's operating costs.
Q: What advantages does the AmkaiOffice inventory management module offer?
RM: Our inventory module is a powerful tool that facility administrators can use to determine their exact inventory expenses by month, quarter and year. This information can then be used in administrative decisions to make the ASC more efficient and more profitable.
By using the inventory management module, the facility can document exactly what was used during the procedure to calculate more precise expense reports.
For example, after a case is completed, information from a physician's preference card is added to the clinical documentation management module. Physicians do not always use exactly what is on their preference card as they will sometimes use more items and sometimes use less. This is why the cost management module relies on the inventory module. Without keeping up-to-date inventory data, you can at best only estimate a facility's cost per case using our preference card feature.
Inventory management is just one of the many features included in AmkaiOffice that maximizes an ASC's efficiency.
Q: How does AmkaiSolutions integrate client feedback into its products?
RM: Initially, client feedback is filed in our client tracking system. From there, requests are reviewed by the head of our product management team and the team itself.
We review all of our client feedback individually and holistically, and determine how the request would best benefit all of our clients. Even though each of our clients have specific workflows and specialties, we have found that nine times out of ten, a request is beneficial to all clients.
We then develop these requests into product functionality and integrate them into the entire system, offering the new features to our clients with the next version release.
When client feedback is specific to an individual facility, we can usually use the custom report feature to take care of the facility's request and input the change directly into their system. This is much quicker than performing an entire product upgrade, and when it is time to release a new version of AmkaiOffice, the new report can be integrated into the system.
Q: Can you describe some of the latest system integrations between AmkaiSolutions' AmkaiCharts EMR and AmkaiOffice management software?
RM: The latest integration that we've completed is for CMS quality indicators.
Quality indicators are tools that help CMS quantify healthcare processes, outcomes, patient perceptions and organizational structure. CMS quality indicators (G-codes) are required by Medicare on all insurance claims, and each indicator differs in meaning.
The AmkaiCharts and AmkaiOffice integration of CMS quality indicators allows ASC staff to code which indicator was completed or needed in AmkaiCharts and have it automatically populate in AmkaiOffice. Once the indicator is present in AmkaiOffice, a charge can be automatically posted to the patient ledger for inclusion on a claim.
Since G-codes are only used by Medicare, AmkaiOffice users can turn on settings at the insurance plan level to control the output of posted G-codes just for Medicare. The system determines when to print a G-code and when not to, so the user doesn't have to.
This was a key element in designing the feature. This is one of the many benefits of having both AmkaiOffice management software and AmkaiCharts EMR in your ASC.