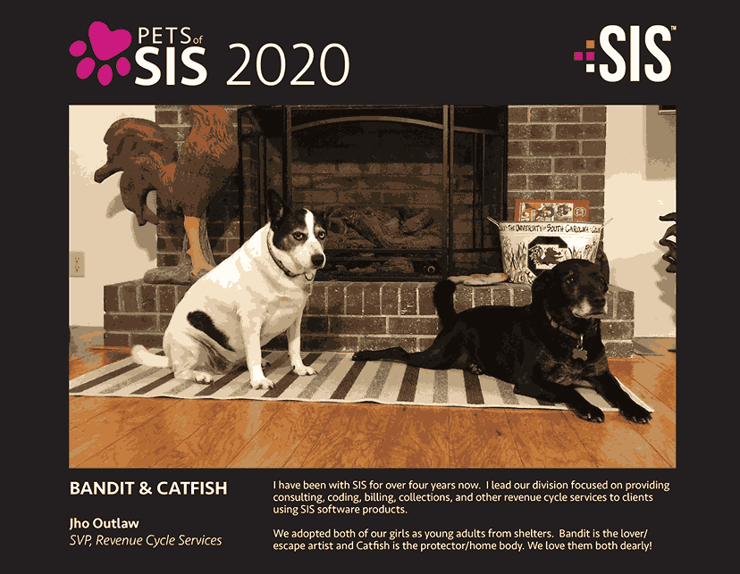 Philanthropic arm of SIS continues fundraising for medical humanitarian organization through creation of and donations linked to calendar featuring pets of SIS associates.
Alpharetta, GA – December 12, 2019 – Surgical Information Systems (SIS), an industry leader focused exclusively on delivering surgical information technology (IT) to ambulatory surgery centers (ASCs) and hospitals, is pleased to announce that its philanthropic arm, SIS Cares, is continuing its support of the lifesaving work of Doctors Without Borders with the 2020 "Pets of SIS" calendar.
To develop the calendar, SIS associates were invited to submit pictures of their pets, which were uploaded to Facebook. Associates, friends, and families were then asked to vote for their favorite pets by donating to Doctors Without Borders, with every dollar donated counting as a single vote. The pets receiving the highest number of votes are featured in the 2020 calendar — one image for each of the 12 months and one for the cover. Images of other pets will be included throughout the calendar. SIS associates submitted pictures of dogs, cats, turtles, rabbits, and hamsters. This the second year SIS has developed the calendar. The 2019 edition featured dogs exclusively.
Doctors Without Borders/Médecins Sans Frontières (MSF) is an international independent medical humanitarian organization that delivers emergency aid to people affected by armed conflict, epidemics, malnutrition, natural disasters, and exclusion from health care in more than 72 countries. On any given day, more than 45,000 individuals representing dozens of nationalities can be found providing assistance to people caught in crises around the world. They are doctors, nurses, logistics experts, administrators, epidemiologists, laboratory technicians, mental health professionals, and others who work together in accordance with MSF's guiding principles of humanitarian action and medical ethics. MSF received the Nobel Peace Prize in 1999.
"We are pleased to once again support the amazing individuals working for Doctors Without Borders," said Doug Rempfer, SIS Chief Operations Officer. "They make a significant impact on the lives of millions of people worldwide in need of assistance."
SIS Cares started in January 2014 with "SIS Cares Day of Service," a single-day event where SIS associates volunteered at one of several charities in the Atlanta area, home to SIS headquarters. Now SIS associates have the opportunity to take one day off per year to volunteer at the charity of their choice. Previous annual SIS Cares holiday fundraisers have benefitted the Ronald McDonald House and numerous local charities in the cities where SIS offices are located.
About Surgical Information Systems
Since 1996, Surgical Information Systems ("SIS") has been dedicated to providing surgical care providers with the solutions and services they need to deliver improved operational, financial, and clinical outcomes. Focused exclusively on perioperative IT, SIS serves over 2900 facilities across the United States and Canada.
The SIS product suite is built specifically for the perioperative environment and includes hospital and ASC-focused solutions covering perioperative Electronic Medical Records (EMRs), Anesthesia Information Management Systems (AIMS), ASC business management, and business intelligence and analytics solutions. Services, including revenue cycle management and ASC advisory services, complement SIS' software solutions.
For more information, visit SISFirst.com.
SIS, the SIS logo, and Surgical Information Systems are trademarks of Surgical Information Systems, LLC. AmkaiSolutions, AmkaiCharts, AmkaiOffice, and AmkaiAnalytics are trademarks of Amkai LLC. AdvantX, Vision, and SurgiSource are trademarks of SourceMedical Solutions, Inc. Other company and product names may be trademarks of their respective owner.