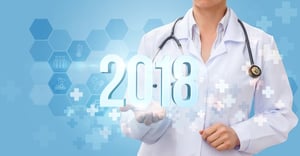 Kara Newbury is the Ambulatory Surgery Center Association's (ASCA) regulatory counsel. In this position, she spearheads ASCA's federal regulatory efforts, primarily working with the Centers for Medicare & Medicaid Services (CMS). Heather Ashby is ASCA's director of government affairs. In this position she directs legislative, state, grassroots and political affairs to advance the strategic goals of the association's policy agenda.
Q: The Medicare 2018 ASC Payment Final Rule was released in the final quarter of 2017. What are the key takeaways for Medicare-certified ASCs?
A: Both ASCs and hospital outpatient departments (HOPDs) will receive lower payment increases than were proposed in July. On average, ASC payment rates will increase by 1.2 percent in 2018. This increase is based on a projected rate of inflation of 1.7 percent minus a 0.5 percentage point productivity adjustment required by the Affordable Care Act. HOPDs will receive a 1.35 percent increase, based on a 2.7 percent market basket update minus a 0.6 percent adjustment for economy-wide productivity and a 0.75 percentage point adjustment required by statute.
Rates for various specialties and individual codes can vary greatly. For the top 100 codes by volume in the ASC setting, the update is generally positive, with most of the high-volume codes seeing increases greater than the 1.2 percent average.
While CMS continued many of its principal policies, the Agency requested feedback on changes they could make in the future to better structure our payment system. We look forward to continuing conversations with CMS staff in 2018 to promote positive changes to the ASC payment system in years to come.
Another key development in the Medicare final rule was the removal of total knee arthroplasty (TKA) from the inpatient-only (IPO) list, meaning it now has a reimbursement rate for HOPDs. While fee-for-service Medicare TKA cases will not be reimbursed in the ASC setting in 2018, the removal of TKA from the IPO list is an important step to seeing this procedure covered in ASCs in the future. ASCA has been at the forefront of advocating for TKA and other joint replacement surgeries to be removed from the IPO list, including spearheading multiple presentations from CMS medical officers on the safety and efficacy of outpatient joint replacements.
Q: Besides this final rule, what are some of the most significant ASC developments from 2017, and why are they noteworthy for the industry?
A: ASCA continues work on Medicare policies related to the use of electronic health record (EHR) technology in the ASC setting. In 2017, CMS began implementation of legislation requiring CMS to exempt physicians who see 75 percent or more of their patients in the ASC from penalties related to using EHR technology.
ASCA also continues to work with the Office of the National Coordinator of Health Information Technology to provide even more flexibility to ASC physicians.
Q: What 2017 developments — or other accomplishments — is ASCA most proud of?
A: ASCA has long been pushing CMS to make changes to the Consumer Assessment of Healthcare Providers and Systems Outpatient and Ambulatory Surgery Survey (OAS CAHPS) before requiring its use by facilities. We are appreciative that CMS has made final its delay of the OAS CAHPS survey, meaning it is not mandatory for 2018. ASCA has been encouraging CMS to keep the survey voluntary until there is an electronic option and the survey is shortened, both of which would significantly reduce the cost burden to our facilities and make it easier for our patients to complete.
In Washington, D.C., ASCA continues to make progress growing support for the ASC industry. The ASC Quality and Access Act of 2017 has more bipartisan cosponsors than ever, and our efforts to educate Congress on the value of ASCs have proven successful. ASCA has been able to work with our champion legislators and Congressional staff to prevent passage of a few different proposals that would have resulted in cuts to the Medicare ASC payment system.
Q: Looking ahead to 2018, what should ASCs be on the watch for?
A: From a regulatory perspective, ASCs expecting revalidation surveys this year should pay attention to the new emergency preparedness guidelines that surveyors are using effective November 15, 2017. Although emergency preparedness is just one of many Conditions for Coverage, we anticipate surveyors might focus on this since it is recently revised. As always, facilities should also ensure they comply with Medicare's Infection Control Worksheet. Infection control citations always top the list.
In terms of legislation, the landscape remains unclear at the time of this interview. Congressional Republicans are likely to make additional attempts to repeal or dismantle parts of the Affordable Care Act and will also be considering legislation to reduce costs in the Medicare program. Both efforts present opportunities for ASCA to pursue legislation that will better the operating environment for ASCs. ASCA will also be monitoring these efforts and working to prevent any potential threats to the industry.
Finally, both legislators and regulators will continue the Trump administration's push to reduce federal regulatory burdens. ASCA has developed a multi-tiered strategy to advocate for the industry with both the legislative and executive branches and will continue working to improve the regulatory environment for ASCs.
Q: Finish this sentence: ASCs that will find success in the new year will …
A: … remain nimble and efficient. ASCs thrive on their efficiency and ability to provide consistently high-quality care for patients at lower costs. Truly successful ASCs will be at the forefront of clinical, regulatory and payment policy developments in the industry by taking advantage of ASCA membership benefits.